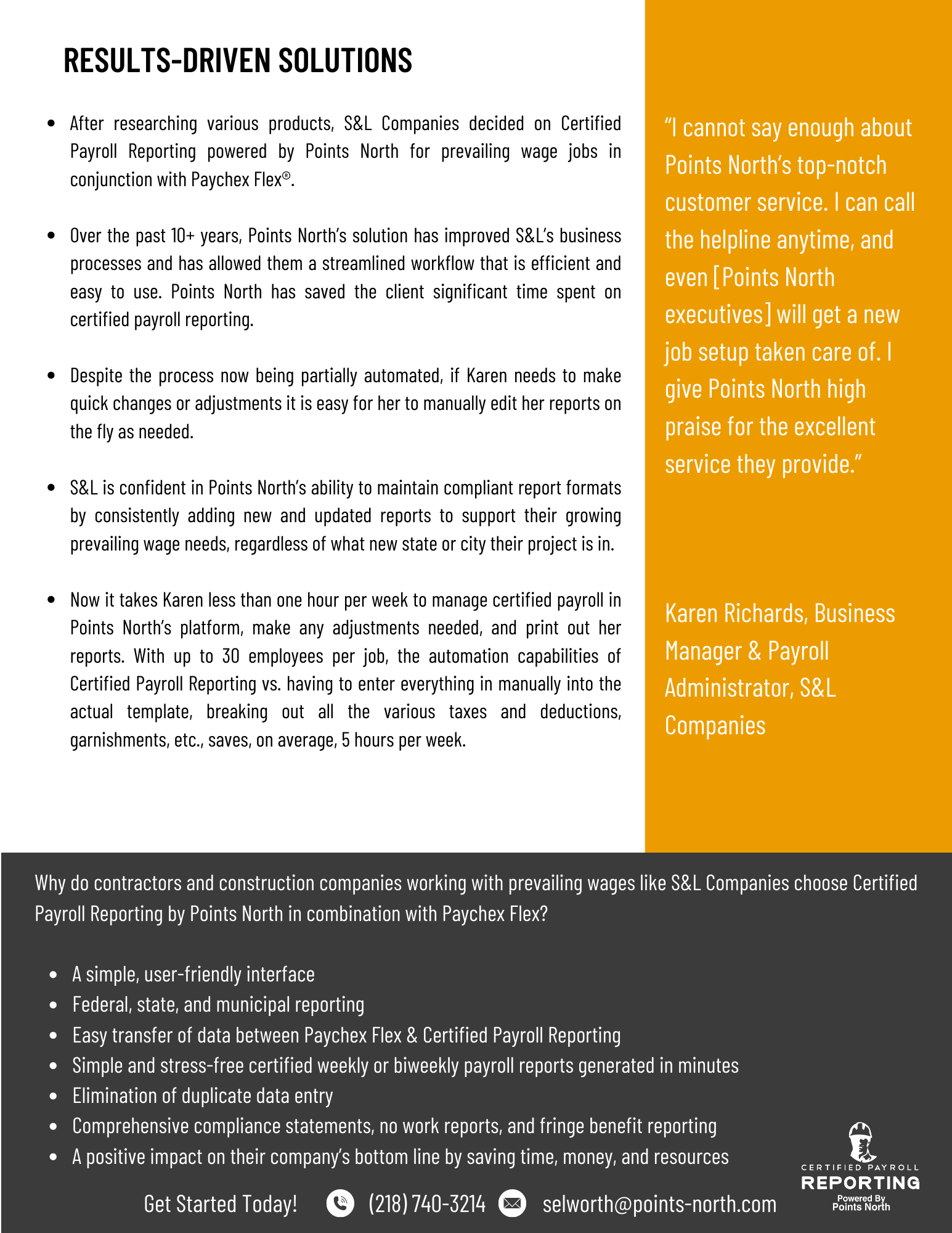 See how S&L Companies, a New York-based general construction contractor company, used Certified Payroll Reporting powered by Points North and Paychex Flex® to save more than 20 hours a month on prevailing wage reporting.
S&L Companies
S&L Companies is a national general contractor for multi-family government housing renovations, government building renovations, commercial window system projects, and a developer of mix use properties in the city of Syracuse, NY. 90% of S&L Companies' business requires certified payroll reports. These reports ensure that workers are getting paid prevailing wages, and that the company is in compliance with government regulations.
Challenges
We spoke with Karen Richards, Business Manager and Payroll Administrator for S&L Companies, who explained their prevailing wage challenges.
More than a decade ago, S&L Companies were originally running their payroll manually in-house through their accounting software that provided a very simple, standard certified payroll report.
Because S&L had complex prevailing wage reporting needs with projects in various states and municipalities around the country, they had to manually transfer their simple reports to various state required forms which took a significant amount of time each week.

As the company transitioned to an outside payroll provider, they also needed to find an outside provider to process their certified payroll reports.

S&L Companies runs weekly payroll and currently has seven prevailing wage projects. At any given time, they can add multiple new projects. Each job varies in terms of the number of employees – some have up to 30.
Results-Driven Solutions
After researching various products, S&L Companies decided on Certified Payroll Reporting powered by Points North for prevailing wage jobs in conjunction with Paychex Flex®.

Over the past 10+ years, Points North's solution has improved S&L's business processes and has allowed them a streamlined workflow that is efficient and easy to use. Points North has saved the client significant time spent on certified payroll reporting. 

Despite the process now being partially automated, if Karen needs to make quick changes or adjustments it is easy for her to manually edit her reports on the fly as needed.

S&L is confident in Points North's ability to maintain compliant report formats by consistently adding new and updated reports to support their growing prevailing wage needs, regardless of what new state or city their project is in.

Now it takes Karen less than one hour per week to manage certified payroll in Points North's platform, make any adjustments needed, and print out her reports. With up to 30 employees per job, the automation capabilities of Certified Payroll Reporting vs. having to enter everything in manually into the actual template, breaking out all the various taxes and deductions, garnishments, etc., saves, on average, 5 hours per week.
"I cannot say enough about Points North's top-notch customer service. I can call the helpline anytime, and even [Points North executives] will get a new job setup taken care of. I give Points North high praise for the excellent service they provide."
- Karen Richards, Business Manager & Payroll Administrator, S&L Companies
Why do contractors and construction companies working with prevailing wages like S&L Companies choose Certified Payroll Reporting by Points North in combination with Paychex Flex?

A simple, user-friendly interface

Federal, state, and municipal reporting

Easy transfer of data between Paychex Flex & Certified Payroll Reporting

Simple and stress-free certified weekly or biweekly payroll reports generated in minutes

Elimination of duplicate data entry

Comprehensive compliance statements, no work reports, and fringe benefit reporting

A positive impact on their company's bottom line by saving time, money, and resources
Get started with Certified Payroll Reporting today - contact us here!