Certified Payroll Reporting Software Created For You
Is creating and submitting your certified payroll reports time consuming and tedious? We are here to help with Certified Payroll Reporting Services!
Get The Free Report Samples
Fill out the form below to get access to our report samples. We offer a variety of Local, State and Federal reports.
Thousands of contractors across the country rely on Certified Payroll Reporting, a cloud-based software automation solution to simplify their prevailing wage reporting — join them today!
Looking for a simple and user-friendly interface?
With an easy-to-use interface powered by Points North, generating certified payroll reports has never been simpler. Our software solution offers online report access and storage, so you can easily generate reports and store information, freeing up valuable time for your team.
Do your government projects require federal, state and municipal reports?
Certified Payroll Reporting Deluxe Edition comes equipped with dozens of additional state and municipal forms. Our online solution automatically generates the Federal, WH-347, state and municipal reports so you don't have to.
Need to transfer from another leading payroll provider?
Our web-based certified payroll service has automated API integration to providers like ADP, Paychex, Quickbooks, Paycor, UKG, Clockshark, and Raken.
Our robust program has also led to client success with other third party payroll platforms, including certified payroll reporting with Paylocity, Paycom, Infinisource, CheckWriters, KTBS, PDS, Ceridian, Stratex, Sanford Technology Group, ExtensisHR, and Viewpoint Spectrum.
Want to become an integration partner? Contact us today!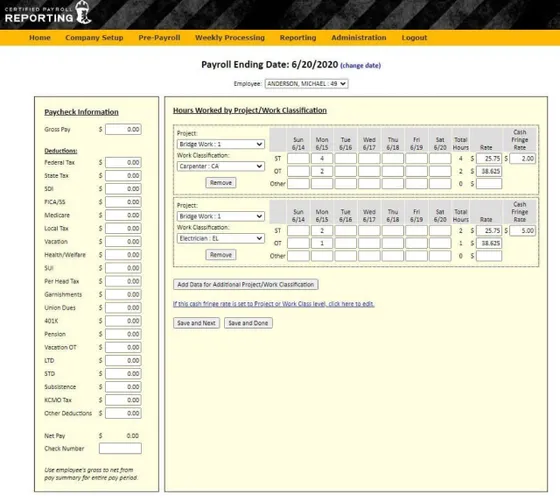 Streamlined Optimization of Certified Payroll
Generate certified payroll reports — and send them where they need to go — directly from the Certified Payroll Reporting® system.
Conveniently email the certified report to anyone who needs it — federal, state or municipal client, a contractor, a colleague directly from your account

Create an email distribution list for each project that accommodates different recipients for various reports within projects

Attach multiple reports to a single email
A Certified Payroll Reporting Software Solution That Provides More Automation to Save Time and Reduce Manual Workflow!
Simple and Stress-Free Certified Payroll Reporting
Increases Report Accuracy
Eliminates Duplicate Data Entry
Saves Time and Easily Accessible
Positively Impacts Corporate Bottom Line
Includes Compliance Statement and No Work Report
Offers Fringe Benefit Reporting
Read Reviews About Our Certified Payroll Reporting Service
"Points North has really simplified my Certified Payroll Reporting process. With the help from their knowledgeable, friendly support staff at Points North, I am able to quickly and easily complete the forms I am required to file in Certified Payroll Reporting. I am so pleased that Points North has provided us with this solution."
"Certified Payroll Reporting is a great product and is huge time saver for our company. Since implementing the solution, we are saving over 4 hours each month. The application has improved the accuracy of the reports and relieves the burden of manual data entry. I highly recommend this seamless, accurate and reliable solution."
"In the past year, since connecting my ADP payroll with Points North Certified Payroll Reporting solution, the time I spent working on my Payroll and Certified Payroll Reports was overwhelming. Thanks to the simple process that Certified Payroll Reporting provides, I am able to create my reports in minutes, so that I can focus on other tasks. The training was very comprehensive and Points North has responded quickly to any questions that I have."
Certified Payroll Reporting automatically generates our weekly Davis-Bacon reports. The accuracy of this solution has greatly simplified the reporting process for our office. The editing functionality, which allows you to add and/or change important report information, is among one of its best features. I would definitely encourage other contractors to invest in this user-friendly application."